Amalfi Italia – Campania, Italy
What and where is the Amalfi Coast? It's an Italian coastline at the southern edge of the country, facing the Mediterranean Sea. The shoreline consists of an amalgamation of coastal towns, the most famous being the town of "Amalfi" that's responsible for the naming of the region. Tourists from all over the world flock to this cultural region to hike on beautiful mountainous trails, witness historical monuments and get a taste of the splendor of nature. 
Explore one of the world's most magnificent regions with amazing Amalfi Coast pictures. Learn interesting facts about this interesting Italian location.
---
Popular Amalfi Coast towns are Sorrento, Amalfi, Positano and Ravello but other places include: Praiano, Minori, Massa Lubrense, Furore and Nocelle.
---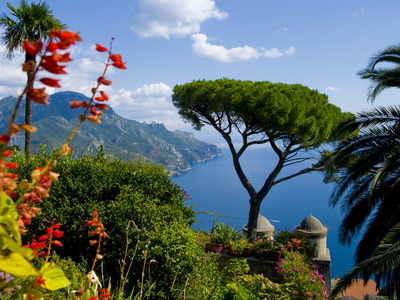 Rufolo View, Ravello, Amalfi Coast, UNESCO World Heritage Site, Campania, Italy, Europe
American poet Henry Longfellow arrived in 1869 and wrote a poem titled Amalfi in 1875 dedicated to his travel experiences along the shoreline.
---
The Amalfi Coast was the first location in Europe to produce contemporary paper, an historic tradition that continues today. The Amatruda paper mill remains as the only handmade production facility still operating on the Amalfi Coast.
---
UNESCO designated the Amalfi Coast as a heritage site due to its tremendous beauty, its historical evolution and Mediterranean cultural significance.
---
Steps Up to the Duomo Cattedrale Sant' Andrea in Amalfi
The most popular landmark in the town of Amalfi, St. Andrew's Cathedral, Piazza del Duomo is famous for its black and white striped archways and exquisite mosaic work. It's been rebuilt plenty of times, with the last remodel being in the 19th century in which the building received its unique Arabic-Norman architectural style.
---
Explore More Amalfi Coast Images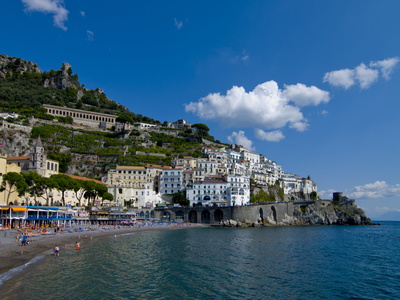 The Town of Amalfi, UNESCO World Heritage Site, Campania, Italy, Europe
If you've enjoyed these stunning images featuring the Amalfi Coast, you can explore more photography and prints showcasing the infamous Italian coastline. Visit our Amalfi category to browse more artwork or explore more pics of Italy as well.