"Unwind" by Hakimipour-ritter
We believe that wall art should occupy every corridor of your home. This includes restrooms. A touch of elegant bathroom wall decor can enhance the impression of any washroom space, augmenting the warm and welcoming ambiance of your household.
When pondering bathroom decorating ideas, your goal is to create a relaxing oasis. Seek out artwork that emanates soft colors, contains light humor or non-serious subject matters, and matches the decor palette of your restroom racks and sinks. Add a tidbit of vibrant art to spice up your space, but remember that tranquility is the goal. Blues and neutrals provide a feeling of serenity, while reds and yellows evoke excitement. Combining the two contrasting palettes create a sense of balance, spawning excitement while not overwhelming the feeling of peace.
Is your washroom space is geared towards kids or adults? Does your home reside near the coast, a forest or in the countryside? These and other factors will affect your bathroom wall decor plans. That's why we've compiled a list of prints and posters according to the type of decor you might implement:
Kids Bathroom Wall Decor
"Brush Your Teeth & Wash Your Hands" Wood Sign
If you're tailoring your bathroom decorations for young children, you should hang artwork featuring cute graphics. Wall art featuring over-sized shapes, basic designs and simple colors will appeal to kids. Cartoon characters are the easiest decorations you can hang on washroom walls. Decorative text art will best connect with kids from six and up, but for toddlers and kindergartners its best to avoid text-based art. More Kids Bathroom Wall Decor >
Beach Bathroom Wall Decor
"Seaside Bath I" by Grace Pullen
If your home resides next to the coast then you may consider art decor with beach scenery wall art. Images of waves, seashells, seascapes and shorelines, decorated with sand-colored frames, brings coastal living sophistication to your space. More Beach Bathroom Wall Decor >
Country Bathroom Wall Decor
"Rainbow Garden III" by Lisa Audit
Images of botanicals and soft-colored decorative florals dominate country-living art decor for your washroom. Artwork with yellow and light-green color palettes will provide a breath-taking natural appearance for this space. John Audubon art prints (information about John Audubon) are popular items for country wall decor. More Country Bathroom Wall Decor >
Outhouse Bathroom Wall Decor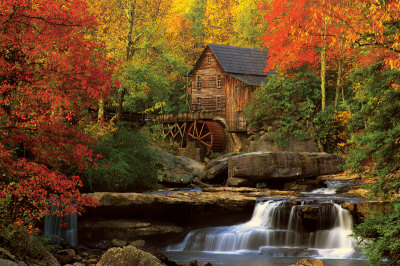 It's important that an outhouse emanates the rustic aura of nature. Framed prints and posters of trees and forest animals fit perfectly within your decorating plans. Since outhouses are tiny and simple, not much effort needs to be expended to beautify the space—other than making sure that the decor vibe evokes comfort. More Outhouse Bathroom Wall Decor >
Spa Bathroom Wall Decor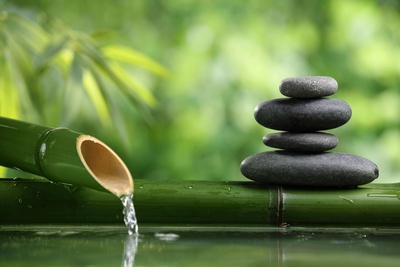 "Spa Still Life With Bamboo Fountain And Zen Stone" by Liang Zhang
Wall art featuring images of ponds, calm water flows, soft waterfalls, and macro photographs of leaves, stones and other natural elements represent decor norms for creating a spa backdrop. Green, blue and beige hues usually dominate the color palette, in order to recreate the relaxing feeling that's associated with nature. Black and white photography prints, often renown for provoking nostalgic sentiments, are suitable displays in this type of environment. More Spa Bathroom Wall Decor >
Bathroom Rules Wall Art
"Bathroom Rules" by Lauren Gibbons
Yes, there's specific decorative wall art that helps you to provide hints to any guest to leave the bathroom space clean and undisturbed. Since this is a subject requiring a soft approach, it's best to select artwork with soft colors (pink, light blue, white, grey, yellow, light red or other light colors). Art designs featuring various color combinations fit perfectly within kids' bathroom wall decor plans; for adults, aim to choose artwork featuring few juxtaposing colors. More Bathroom Rules Wall Art >
We hope this guide helps you to select the right artwork for your space. Start planning wall decor for your bathroom with our assortment of posters and prints for sale at Allposters.com.