Ever since the first issues of Superman and Batman, D.C. Comics continues to add superheroes to their roster of comic book characters. Their iconic comic franchises have survived longer than 50 years. The proliferation of movies, television shows, merchandise and graphic novels exemplify the mainstream appeal of these comic book stories—for adults and kids alike. D.C. Comics has also spawned new iterations of their favorite superheroes, dubbed New 52 and Convergence.
You're here to witness some great artwork, all of which is displayed below. This only represents a fraction of the astonishing posters in our assortment. View more amazing comic book illustrations in our D.C. Comics poster collection.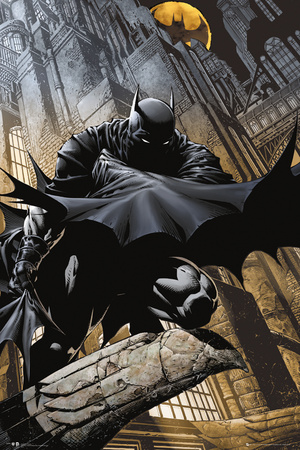 Invisible to the populace underneath him, Batman monitors every movement happening below. Looking for signs of trouble. This Batman Stalking poster captures the ethos of Gotham's Dark Knight. Lots of granular architecture details stand out, such as the cracked texture surfaces of buildings and the individual crease details of his cape. And no Batman poster is complete without the infamous bat signal—in full display hovering in the sky. BUY >>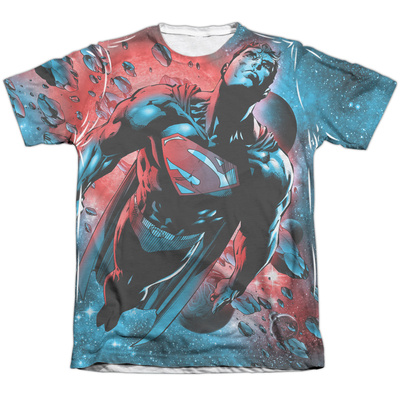 This t-shirt sums up our nostalgia about Superman. Bulky muscles, stern facial expressions and sporting his red-and-blue suit. The same color shades add further dramatic effects, and the combination of the two hues in the background creates a stunning image. BUY >>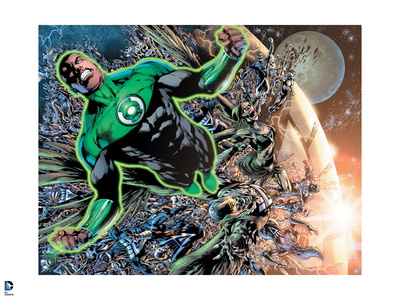 What's impressive about this artwork? It's not just the detailed portrait of Green Lantern John Steward escaping a horde of menacing monsters, but the fact that the artist crafted detailed looks for each of the background figures. They're fleshed out with individual expressions and outfits. You can even guess their personality types just by observance. Truly remarkable comic art! BUY >>
Superman – Burn (Cover Art, Issue 218)
Superman fits the mold of a notable superhero, upholding the ideal notions of virtue and justice regardless of the situation. Unless he's angry. Whenever D.C. Comics writers and artists want to display Superman's fury, they will show him targeting individuals with his laser beams or decimating buildings. This cover art of Superman issue #218 shows him using his eye beams to destroy the villain Blackrock. BUY >>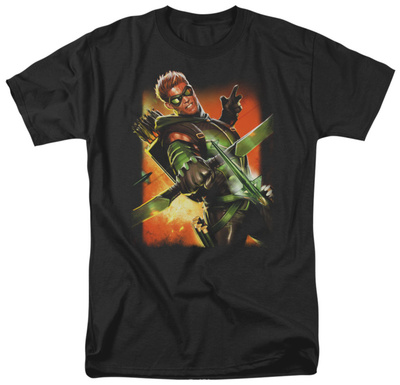 DC Comics New 52 – Green Arrow Issue #1
Abandoning the Robin Hood appearance of the old Green Arrow, D.C. Comics presents a revamped younger and darker version of the comic book character. Instead of showcasing him as a justice-seeking vigilante, he's an angry hell-bent protagonist. This cover art illustration is the appearance of New 52 Green Arrow on issue #1. BUY >>
Justice League: Superman, Wonder Woman, Green Lantern, Batman, Aquaman, Cyborg, Batman and Flash
This poster displays the signature power and ability of each core member of the J.L.A. (Justice League of America), descending from the sky to handle a situation below. The application of shading and streak lines in the background adds to the dramatic impact of the artwork. If you're a fan of D.C. Comics, this poster artwork belongs in your collection. BUY >>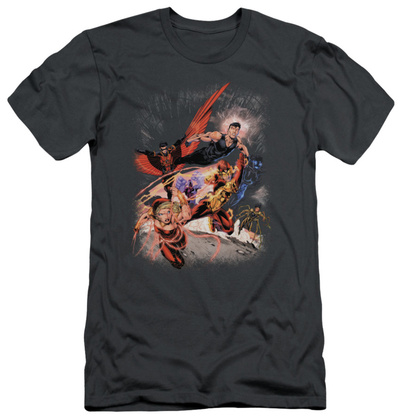 Justice League – Teen Titans No.1 (slim fit)
Teen Titans—the young counterpart copies of popular D.C. Comic superheroes (Batman, Superman, Wonder Woman, Flash) plus a few distinct members. This poster showcases their issue #1 appearance as apart of the New 52 Universe reboot. BUY >>
Of all the villains that Batman contends with, Harley Quinn represents one of the most voluptuous enemies in the series. Her beauty hides a sinister personality. This poster beautifully captures this highlight about the character. BUY >>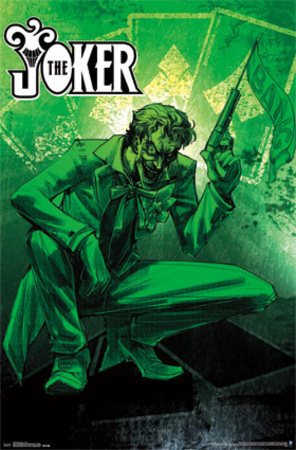 Bold lines, dark glowing green aura and the creepy smile present on the face of The Joker makes this a scary poster in its own right. This artwork represents one of the most unique illustrations of the villain, capturing all of the funny qualities that make him memorable as one of Batman's deadliest foes. BUY >>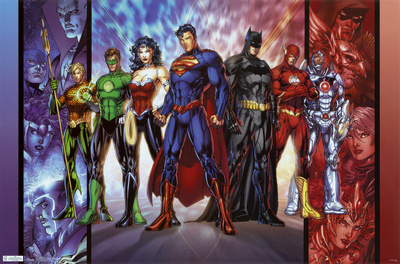 DC Comics Justice League, the new 52 Poster Print
Allposters.com, the largest online store for quality posters, carries a vast collection of the best D.C. Comics poster artwork. Discover illustrations featuring your favorite superheroes. You can frame your poster, have it mounted on wood, purchase it as a t-shirt or transfer to a canvas surface. Start browsing today!