Joe Frazier – Knocking Down Muhammad Ali – B&W Autographed Photo (Hand Signed Collectible)
Boxing is one of America's favorite events to watch. The sport has produced famous fighters who transformed into pop culture icons in addition to earning their recognition as incredibly talented fighting athletes. In this blog post, we selected 10 of the greatest boxers in the past 90 years and showcase the best boxing photos that highlight their best moments or notoriously represent their attitude. Begin
---
Joe Frazier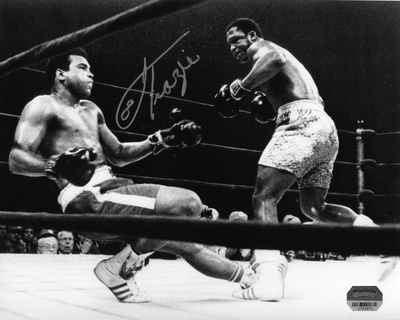 Joe Frazier – Knocking Down Muhammad Ali – B&W Autographed Photo (Hand Signed Collectible)
Joe Frazier, aka Smokin' Joe, was one of Muhammad Ali's toughest rivals. They fought each other three times over their respective boxing careers, with their last match culminating in the infamous "Thrilla in Manilla". The International Boxing Research Organization rated Joe Frazier as one of the top ten greatest heavyweights of all time, and The Ring ranked him as the 8th greatest heavyweight. The International Boxing Hall of Fame and the World Boxing Hall of Fame both inducted him. (View Joe Frazier posters)
---
George Foreman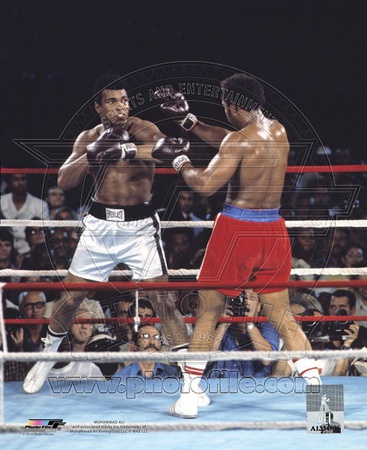 Muhammad Ali Vs. George Foreman "The Rumble in the Jungle" Kinshasa, Zaire 1974 (#21)
George Foreman has been surprising audiences since his debut in the world boxing circuit. First he was a gold medalist at the 1968 Olympics. Then he gained the Heavyweight Champion title after defeating Joe Frazier. After his loss to Muhammad Ali and following another loss in 1977, he retired from boxing. Until 1994, when at the age of 45 he triumphed over the 27-year old then-Heavyweight Champion Michael Moorer and became the oldest Heavyweight Champion in boxing history. He finally retired again in 1997, well after the launch of the successful "George Foreman Grill".
The International Boxing Hall of Fame and the World Boxing Hall of Fame both inducted him. The Ring magazine rated him among the top 25 fighters of the past 80 years and the 9th greatest puncher of all-time.
---
Muhammad Ali
Muhammad Ali vs Ken Norton, Yankee Stadium, Bronx, NY 1976
Muhammad Ali's famous declaration "I am the greatest" bears some truth. He was matched against great boxers such as George Foreman and Joe Frazier (x3)—and won many of those fights. His most iconic boxing photo featured the infamous Sonny Liston knockout. As of this writing, Ali was the only fighter who had been a three-time Heavyweight World Champion. (View Muhammad Ali posters)
---
Rocky Marciano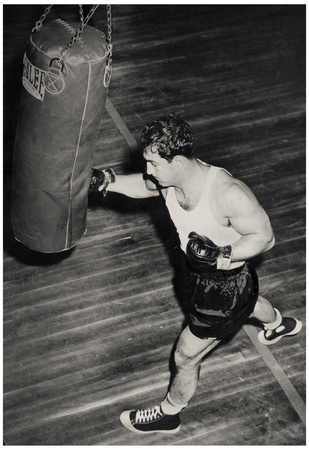 Rocky Marciano Punching Bag Archival Photo Sports Poster Print 
Very few boxing were skilled enough to retire as an undefeated world champion, but Rocky Marciano was among the legendary few. He was the only Heavyweight Champion to survive an entire career without losing his title, and possessed the highest knockout percentage of any boxer—at a whopping 88%. The Ring named him fighter of the year three times. Marciano was inducted into the International Boxing Hall of Fame and the World Boxing Hall of Fame. And two statues were erected: one in Italy, and one in Massachusetts. (View Rocky Marciano posters)
---
Mike Tyson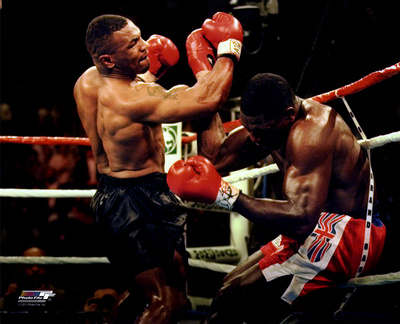 Mike Tyson, perhaps the most controversial boxer in history, accomplished many achievements during his active boxing career. He earned the WBC, WBA, and IFC heavyweight titles by the age of 20 and the only heavyweight to unify them. The Ring ranked him No. 16 out of the 100 greatest punchers of all time, and ESPN rated him as the hardest hitter in heavyweight history. (View Mike Tyson posters)
---
Manny Pacquiao
Manny Pacquiao (Boxing) vs Miguel Cotto with "Pacman" Autographed Photo (Hand Signed Collectible)
Manny Pacquiao is the first and only eight-division world champion. Currently the WBO lightweight champion, he's the recipient of the following recognitions: "Fighter of the Decade" (2000s) by the Boxer Writers Association of America, World Boxing Council, and the World Boxing Organization; "Fighter of the Year" by the B.W.A.A.; "Best Fighter ESPY Award" in 2009 and 2011; ranked number three on The Ring's pound-for-pound list. Pacquiao is also the first fighter to win the lineal championship in four different weight classes. (View Manny Pacquiao posters)

---
Evander Holyfield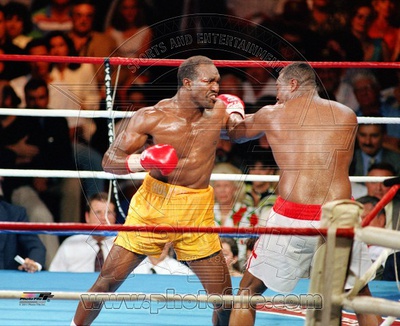 Evander Holyfield, now retired, was the Undisputed World Champion in both the cruiserweight and heavyweight divisions. As of this writing, he was the only four-time World Heavyweight Champion, winning the WBC, IBF, and WBA titles twice. The Boxing Scene ranked him as the Greatest Cruiserweight of all time, and The Ring listed him #77 on its ranking of 100 greatest punchers. (View Evander Holyfield posters)
---
Ken Norton
Ken Norton, Muhammad Ali Photo
Boxing historians and fans remembered Ken Norton as the boxer who broke Ali's jaw during a fight and proved to be one of his trickiest opponents. Norton defeated many top defenders during his career and fought until he was 38 years old. The Ring ranked him No. 22 in its list of 50 greatest heavyweights of all time. He was inducted into the World Boxing Hall of Fame, International Boxing Hall of Fame, United States Marine Corps Sports Hall of Fame, WBC Hall of Fame, Breitbard Hall of Fame and the California Sports Hall of Fame. (View Ken Norton posters)
---
Jack Dempsey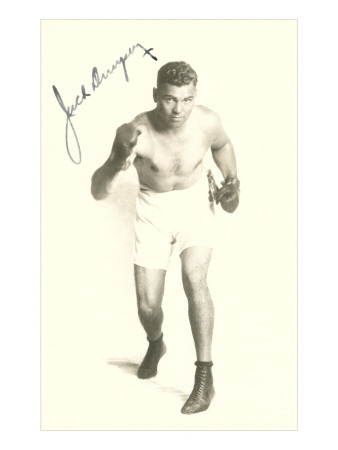 Autographed Photo of Jack Dempsey
Jack Dempsey's aggressive style and punching power made him one of the most popular boxers in history. He started out as a teenage homeless traveler and ended up as a bodyguard, eventually making it into professional circuits although his complete boxing career remained unknown. Dempsey eventually earned the Heavyweight Championship and defended his title until retirement. The Ring ranked him #10 on their list of all-time heavyweights and #7 among their top 100 greatest punchers. He was inducted into the International Boxing Hall of Fame. (View Jack Dempsey posters)
---
Julio Caesar Chavez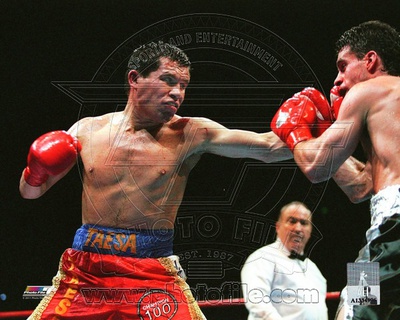 Julio Caesar Chavez was a six-time champion in three weight divisions and for several years was considered the best pound-for-pound fighter in the world. He earned the WBC Super Featherweight, WBA Lightweight, WBC Lightweight, WBC Light Welterweight, IBF Light Welterweight and the WBC Light Welterweight championships. ESPN ranked him #24 on their list of the 50 greatest boxers of all time. Chavez was inducted into the International Boxing Hall of Fame. (View Julio Caesar Chavez posters)
---
More Boxing Photo Posters?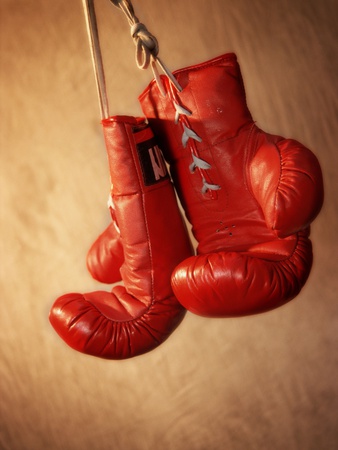 At Allposters.com, the world's largest online poster store, you can discover boxing photos of the most famous boxers in history. From classic boxers such as Jack Dempsey or Rocky Marciano, to contemporary boxers such as Manny Pacquiao, you can browse posters of your favorite fighter by viewing our boxing photos collection. Find the perfect poster today!