If you viewed the premier of Daredevil on Netflix, you've witnessed one of the costume designs of the most underestimated character in the Marvel Comics Universe. Daredevil is the alter ego of blind attorney Matt Murdock. After losing his eyesight as a child, he developed his other four senses (touch, hearing, smell, and taste) and learned to overcome all of his trepidation, becoming the "man without fear." His main villains were Kingpin (from Spider-man and The Punisher) and Bullseye.
Over the years, different artists worked on the comic book series. Although most of the illustrators maintained the trademark red suit, adorned with two "DD" letters on his chest accompanied by a modified walking stick, Daredevil's costume has undergone various designs. Browse the next set of pages to view the previous phases of the character and marvel at the comic artwork rendition of the superhero as seen through the visions of various illustrators.
---
Red , Yellow & Black Daredevil Costume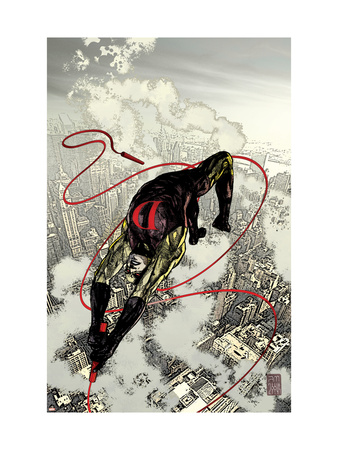 Daredevil No.66 Cover: Daredevil Fighting and Flying
Daredevil's first appearance in 1964 featured him adorned in a red and yellow costume, swinging from buildings using a modified walking stick and performing mesmerizing aerobatic movements. It was believed by one historian that the legendary Jack Kirby designed the first Daredevil costume, lasting only for six issues with the red costume debuting in the 7th comic book of the series.
---
Red & Grey Daredevil Costume
Daredevil No.512 Cover: Daredevil Standing
Marvel Comics, feeling adventurous, created a series called Shadowland. All the events occur in an alternate universe, where Daredevil is possessed by an evil spirit and rules New York. Normal superheroes transform into villains, and the routine antagonists vice versa. His red-and-grey costume debuts during the series and the cover of issues No. 512 displays all of his previous costume suits. Browse Marvel Daredevil Shadowland posters >>
---
Marvel Noir Daredevil Costume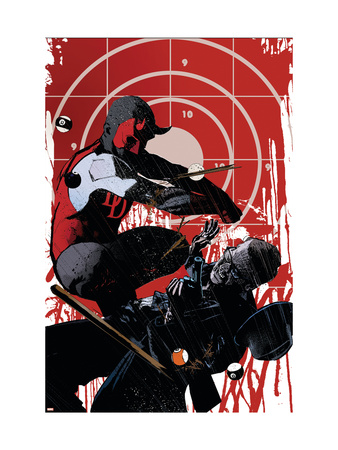 Daredevil Noir No.3 Cover: Daredevil
Marvel Comics created another alternate universe series featuring Daredevil, called Noir. In this particular comic book series, Matt Murdock is an actual performer who dons the Daredevil costume and takes revenge on criminals. Wearing a black spandex head covering and pants, a red mask sporting horns at the top and a red sleeveless shirt. 
---
Daredevil Ninja Costume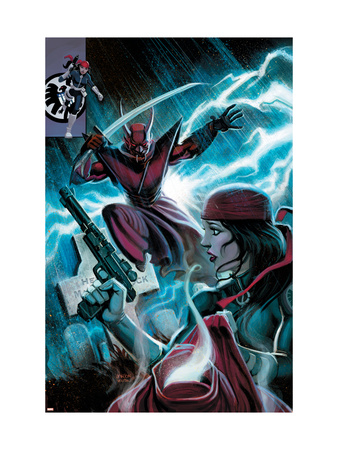 What If? Daredevil vs. Elektra No.1 Cover: Elektra
The comic book writers of this series asked: what if the roles were reversed and Daredevil was recruited into a ninja organization called "The Hand"? We see Matt Murdock, as the Daredevil, adorning a red ninja suit and wielding a sword—hunting down ex-lover Elektra. 
---
Looking for More Daredevil Posters?
Avenging Spider-Man No.6 Cover: Spider-Man, Daredevil, and Punisher Jumping
Want to view more Daredevil posters? At Allposters.com, we carry a large assortment of comic book poster artwork featuring the "man without fear". Find the right poster for your space today!