WWE (World Wrestling Entertainment), for the last 35 years since 1980, has turned the sport of wrestling into a pop culture necessity. Wrestlers such as John Cena, Dwayne "The Rock" Johnson and Hulk Hogan have been transformed from unfamiliar up-comers to household celebrity names. Many legends have fought in the ring and future champions await to battle within WWE's various arenas.
Let's take a look at some of the most famous and greatest WWE wrestlers in history.
---
John Cena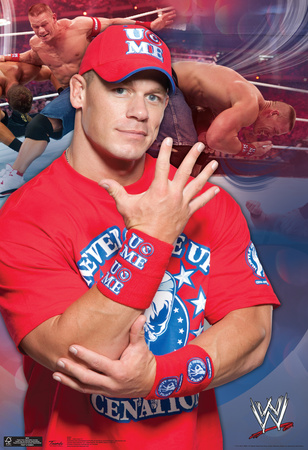 John Cena Wwe Wrestling Poster
From his humble beginnings in the UPW (Ultimate Pro Wrestling), he has risen through the ranks of the WWE and attained the status as one of its main legends. He has survived 12 reigns as the WWE Champion and three reigns as the World Heavyweight Champion. That's besides winning two Royal Rumbles and three Superstar of the Year Slammy Awards. Plus John Cena has starred in a number of movies—making him a Hollywood celebrity as well.
---
Shawn Michaels & Triple HHH ("Degeneration X")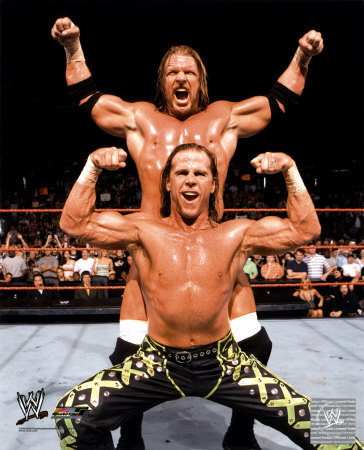 Shawn Michaels and Triple HHH will forever be known as the initial band of rebels called "Degeneration X." Their most famous antic occurred outside of the ring, when they visited then-WWE's competitor wrestling organization WCW (World Championship Wrestling) and mocked their offices and headquarters on camera.
They began the trend of wrestlers breaking the rules and running afoul of wrestling authorities. The group disbanded, rejoined, disbanded and finally reunited for Shawn Michael's retirement in 2010. A 2013 viewer poll dubbed the duo as WWE's greatest Tag Team Champions of all time.
---
Hulk Hogan "Hulkamania"
Terry Gene Bollea is better known for his ring name "Hulk Hogan," perhaps the most popular wrestler in history. His signature pose consists of him tearing his yellow tank-top shirt and uttering permutations the word "hulk" ("Whatcha gonna do when the Hulkster comes for you?!"). He's a 12-time champion, six-time World Heavyweight Champion and the first person to win two consecutive Royal Rumbles. Hogan's famous feuds involved Andre the Giant and The Ultimate Warrior.
---
Dwayne Johnson "The Rock"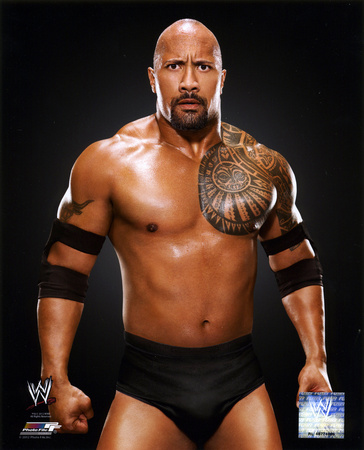 Besides Hulk Hogan and John Cena, very few wrestlers have attained the level of fame achieved by "The Rock." And very few people even call him Dwayne Johnson.
"The Rock" sports an impressive 17-championship reign in WWE, the most for any wrestler in the franchise. His ring character was most famous for his feud with Stone Cold Steve Austin and Vince McMahon. Plenty of other wrestlers have called him the greatest WWE superstar of all time. It's hard to argue against that belief—since his debut in the wrestling organization, he's become a highly reputable actor and entertainer.
---
Ric Flair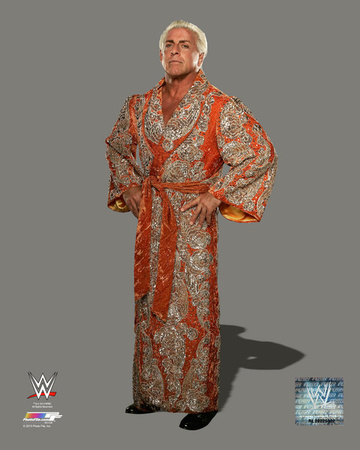 Who could ever forget the "Woooo!" chants of "The Nature Boy" Ric Flair? His career spans over 40 years and across four different wrestling organizations—earning 16 championships throughout his timeline.
---
The Ultimate Warrior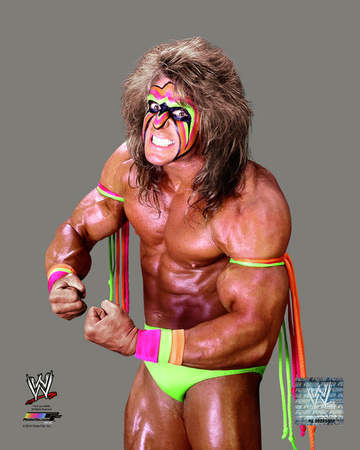 James Brian Hellwig donned the ring name "The Ultimate Warrior" from 1987 to 1991, and again from 1992 to 1996. He's most famous for being a frenemy of Hulk Hogan, whom sometimes helped each other and other times battled one another relentlessly. His wrestling career consists of three championships—two WWF Intercontinental Championships and a WWF Championship.
---
The Undertaker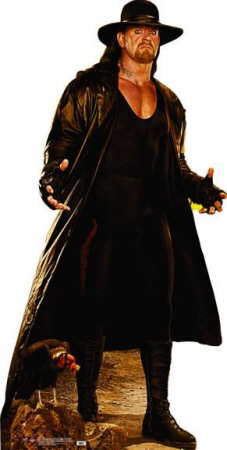 The Undertaker has the record of the longest wrestler in WWE history. He's wrestled in the ring since 1990 and attained championship status eight times in his career, along with having 21 consecutive victories at every WrestleMania event during his tenure. In addition, he holds the record as having the greatest gimmick in wrestling. A ringside manager oftentimes walked with him down the aisle carrying a golden urn, and The Undertaker would gaze at it while entering the ring. Also, during a match if opponents believed that they had knocked him out, The Undertaker would raise his upper body quickly from the ground, stare at his opponent and then hop to his feet. He appeared to absorb all pain, and other fighters found it nearly impossible to entrap him in submission moves.
---
"Stone Cold" Steve Austin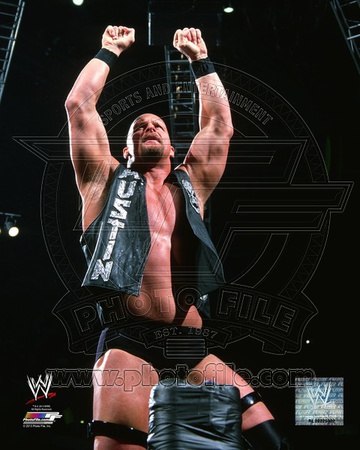 Steve Austin has a stormy history in the franchise, but nonetheless he's regarded as one of the greatest wrestlers in WWE. His character, along with Degeneration X, began the rebellious streak of the late 90s. He's also famous for coining one of the greatest catchphrases in wrestling history: "Austin 3:16 says…". The wrestler is a six-time WWF Champion, a two-time Intercontinental Champion and a four-time WWF Tag Team Champion. Injuries forced him into retirement but he continued his involvement in various roles—commentator, "Co-General Manager" and guest refereeing matches.
---
Bret "The Hitman" Hart
No one held the championship more times than Bret Hart during the 1990s. His athletic performance in the ring is credited with revolutionizing the wrestling industry in the 90s. Hart's famous rivalries were with Steve Austin and Shawn Michaels, although he conflicted with Michaels off the ring as well. He was forced to retire in 2000 after a concussion but he returned briefly to the WWE in 2004, 2006 and 2010. Bret Hart was inducted into the WWE Hall of Fame in 2006.
---
"Macho Man" Randy Savage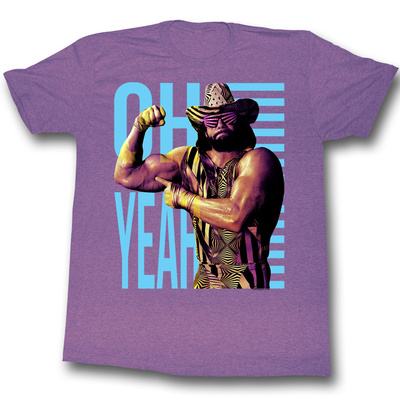 "Oooo Yeah!" That phrase was his favorite moniker during his time in the WWE, and briefly in WCW. Despite the flashy attire and personality, many wrestling fans and colleagues alike consider him one of the greatest pro wrestlers of all time. During his 32-year career he has won 20 championships. Like Hogan, he's considered one of the most legendary WWE wrestlers. In 2015, four years after passing away, he was inducted into WWE's Hall of Fame.
---
Andre the Giant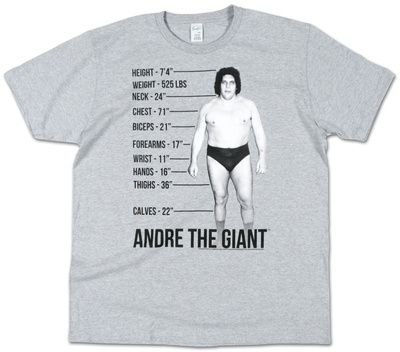 No other wrestler, regardless of their status and wins, was regarded as the "Eighth Wonder of the World." Only Andre the Giant (Andre Rene Roussimoff) held that title. Even though he was a recipient of only one WWF Champion and one WWF Tag Team Champion award, his status is legendary. He was perhaps one of the first inductees into the WWF Hall of Fame (now WWE Hall of Fame) and the WWE ranked him as the second greatest big man in wrestling history. The feud between him and Hulk Hogan was a pop culture phenomenon for a very long time.
---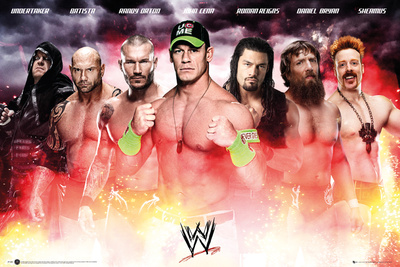 Are you looking for WWE merchandise? You can find posters, cardboard cutouts, shirts, novelties and other FANtastic items on Allposters.com. Click here to start browsing our collection today.