April is the global period for the peak bloom of cherry blossom tree flowers. It's the only season of the year in which you can witness the pink plants transform into impressive botanical sights. The most notorious patch of cherry blossoms is the Cherry Blossom Festival that occurs in Washington, D.C. every year. It symbolizes the friendship between the United States and Japan, starting in 1906. At the time, Department of Agriculture official David Fairchild imported 100 Japanese cherry trees and planted them in his garden. Since they grew well, the Japanese exported 2,000 more trees but the planting ended horrendously and President Taft ordered the trees destroyed in 1910. After the U.S. Secretary of State explained the situation to the Japanese, they shipped 3,000 more trees to the U.S. in 1912. Since then, planting of the cherry tree spread across the country. Beginning in 1935, festivals sprung up in different cities.
If you're mesmerized by the beauty of Japanese cherry blossoms, you'll appreciate this collection of beautiful blossom images. Browse the next set of pages and discover splendid cherry blossom photography.
---
Cherry Blossoms, Mishima Taisha Shrine, Shizuoka
---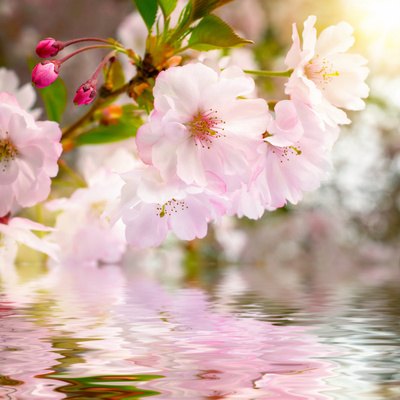 Cherry Blossoms with Reflection on Water
---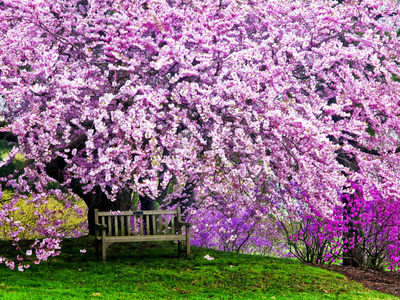 Wooden Bench under Cherry Blossom Tree in Winterthur Gardens, Wilmington, Delaware, USA

---
---
Close Up of Weeping Cherry Blossoms, Prunus Subhirtella Var. Pendula
---
---
---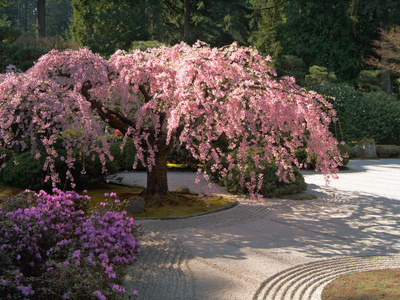 Cherry Tree Blossoms Over Rock Garden in the Japanese Gardens, Washington Park, Portland, Oregon
---
Cherry Blossoms and Takada Castle
---
Explore More Cherry Blossom Photo Posters!
Mt Fuji Cherry Blossoms Yamanashi Japan
Discover more beautiful images of cherry blossoms by visiting our collection today! Find the right poster and print to hang in your space.