Marvel Comics fans know the name Iron Fist but the character's origins aren't well known. Created by Roy Thomas and Gil Kane, during a period in the mid-70s when pop culture craved martial arts superheroes, the character utilized Kung Fu skills and super strength capabilities to fight villains. He first appeared in Marvel Premiere #15 back in May 1974.
The character's initial popularity led to its own line of comic book stories and cross-over storylines with other famous Marvel stars, such as The Avengers and  X-Men. When Iron Fist's popularity waned, Marvel featured the character with another superhero title whose influence was also fading: Luke Cage. Iron Fist's appearances in the Marvel Universe concluded in 1986 with a tragic passing away that angered the character's fan base.
Like most vintage Marvel superheroes, the studio revived Iron Fist in the 90s and teamed him with Wolverine, Deadpool, The Avengers, Daredevil and other characters. Now, with an increased interest in the super-powered hero, Marvel has decided to bestow a Netflix series based on the original comic book series.
"The Last Defender" was the slogan Marvel developed to promote the new Iron Fist show.
Iron Fist Identity and Origin: Daniel Rand of "K'un-L'un"
Buy
For those unfamiliar with the original storyline, Iron Fist is the alter ego of Daniel Rand—the son of a wealthy entrepreneur. His father was betrayed by a business partner. As a child, Rand stumbled into the mystic city of K'un-L'un and trained there during the span of his adolescence. After he killed a dragon, he attained the powers of the "Iron Fist." When the city re-appeared on Earth, Danny Rand departed to take vengeance on the man who killed his father.
Iron Fist Logo: The Dragon Symbol
Buy
The dragon logo is a distinct feature of Iron Fist. It's a reversed-S-shaped curve, with large wings sprouting from the middle and a twisting tail ending with an arrow-shape tip. The character's dragon symbol is a popular design among tattoo enthusiasts.
Legacy of the Iron Fist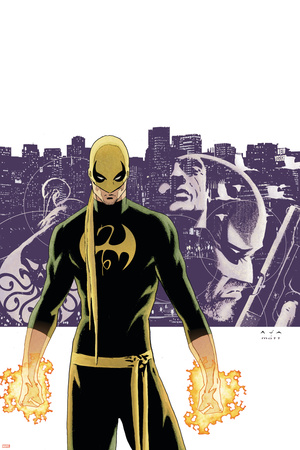 Buy
Iron Fist's modern rise in pop culture is due in part to the success of the Marvel Cinematic Universe and a renewal of interest in superhero television shows (The Flash, The Arrow, Daredevil, Agents of Shields, etc.). The character's successful reintroduction into the Ultimate universe proves that Iron Fist has a sustainable fan base. Wizard Magazine ranks him as the 195th greatest comic book character of all time. Entertainment publications are increasingly mentioning the upcoming "Iron Fist" series on Netflix that premieres March 17th, 2017.
Are You An Iron Fist Fan?
Buy
Check out our collection of awesome artwork featuring the super-powered character from the Golden Age of Marvel. Add any of these items to your collection of wall art and novelties featuring one of your favorite superheroes Iron Fist. (Featured image: http://www.allposters.com/-sp/Iron-Fist-The-Living-Weapon-No-10-Cover-Posters_i14154511_.htm)