New York City, NY – Skyline at Night
The New York City skyline is the most famous cityscape worldwide. The Empire State Building and the One World Trade Center dominate the skies of the Big Apple, but it's estimated that by 2020 other buildings will compete for the most prominent spot in the sky. 
Browse the next set of pages and discover mesmerizing photo prints that capture the beauty of the NYC skyline. Maybe you'll find a cherished image you can hang in your space.
---
Night View of the NYC Skyline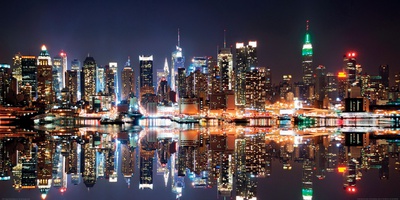 New York City Skyline at Night
The tallest skyscrapers in New York City include: GE Building ("Top of the Rock"), Rockefeller Center, Empire State Building, One World Trade Center, MetLife Building, Conde Nast Building, Hearst Tower, Citigroup Center and the Times Square Building. View more New York Building Posters >>
---
Mid Manhattan Skyline View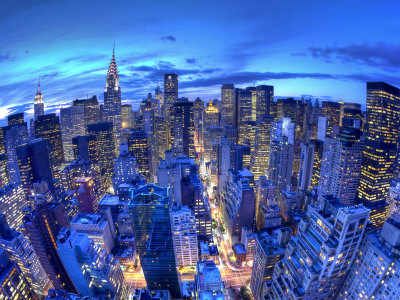 Chrysler Building and Midtown Manhattan Skyline, New York City, USA
Midtown is a neighborhood in Manhattan and you can find Rockefeller Center, Radio City Music Hall, and the Empire State Building. Midtown itself is broken down into "Midtown East" and "Midtown West", or also Turtle Bay, Murray Hill-Kips Bay, Hell's Kitchen-Clinton and other areas. View more Manhattan Posters >>
---
Manhattan Skyline View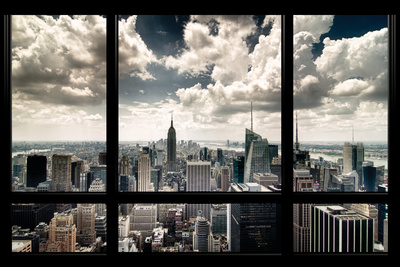 View of Manhattan, New York from Window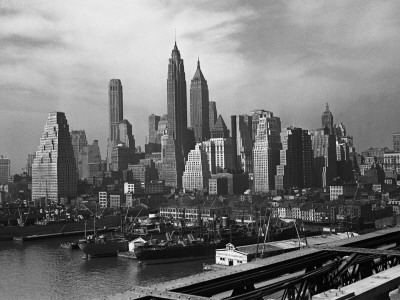 Manhattan Skyline, New York City
Manhattan Skyline and Reflection
Manhattan is seen as a major center of influence for American arts and culture, with art movements such as Pop Art and the Harlem Renaissance originating from this city. Among other things, the Art Deco architecture style that's popular in Manhattan draws tourists to the region. View more Manhattan Cityscape Posters >>
---
Brooklyn Bridge Skyline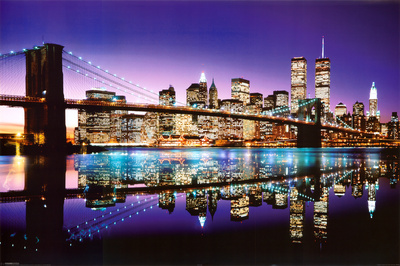 Ever since construction finished in 1883, the bridge has carried 150,000 vehicles and pedestrians everyday. It offers scenic passage to commuters, tourists, trains, bicycles, pushcarts and cars. When the bridge first opened, many people were worried about its stability but famed circus owner P.T. Barnum eased concerns about safety by marching 21 elephants across the bridge. View more Brooklyn Bridge Posters >>
---
Working in the New York City Skyline
The New York City skyline is constantly in construction mode. In 2012, it was reported that 23 tall buildings were under construction. Charles C. Ebbets, the photographer who snapped the picture depicted in the above photo poster Lunch Atop A Skyscraper (dabbled in color), captures the ethos of the New York City skyline. View more posters >>
---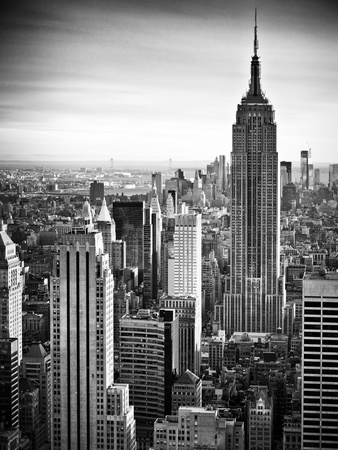 Lifestyle Instant, Skyline, Empire State Building, Manhattan, Black and White Photography, NYC, US
The Empire State Building is one of the most famous buildings worldwide. Because so many businesses reside within, it has its own zip code—10118. The 103-floor tower stands at 1,454 ft (including the antenna spire). It was designed by William Lamb and opened in 1931. The 86th and 102nd floors serve as observation decks where visitors can view the New York cityscape. View more Empire State Building Posters >>
---
Fog and Clouds Skyline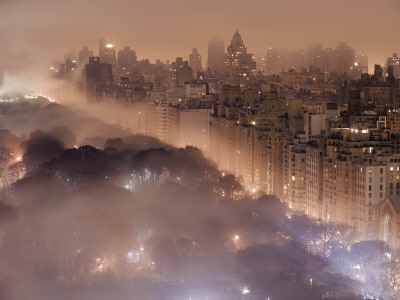 Light pollution and fog combine to blur a New York City skyline
New York City isn't renown for heavy pollution, but there are moments when light pollution and fog intermingle to create an amazing photographic moment, as captured in this surreal-like photo poster of clouds blanketing the urban border of Central Park and Manhattan. View more New York City Posters >>
---
Broadway & Times Square Skyline
Broadway Looking Towards Times Square, Manhattan, New York City, New York, United States of America
Times Square is the intersection of Broadway and Seventh Avenue in central Manhattan. It's home to the most famous New Year's Eve celebration in the entire world. Neon signs and giant advertising billboards dominate skyline of this busy cross-section of commercial New York. There's a plethora of museums, tours and shopping destinations. View more Times Square Posters >>
---
Columbus Circle in Manhattan
New York Cityscape at Columbus Circle in Manhattan
Columbus Circle is a large traffic circle perched near an entrance of Central Park in Manhattan. The center features a statue of Christopher Columbus surrounded by beautifully designed gardens and pathways. The Time Warner Center, Museum of Arts and Design and Maine Monument are some of the nearby buildings and monuments within the vicinity. View more Columbus Circle Posters >>
---
Explore More Cityscape Prints & Photos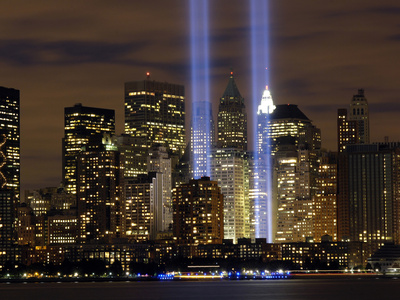 Discover other cityscape prints and photos that are available in our collection on Allposters.com. Visit our Cityscapes poster collection today and find the right photo or art print of your favorite city!