"Circles in a Circle" from AllPosters.com
Wassily Kandinsky was a famous modern artist who fully embrace the abstract style of art. Many art critics regard him as the first artist to create full abstract artworks. He was a Russian painter, born in Moscow and spent the majority of his youth between there and Odessa. Eventually he settled to reside in Moscow and married a woman named Nina Andreevskaia. He moved to Germany in 1921, and then Paris in 1933. Unfortunately, in December of 1944, he died in Paris during the German occupation of the city. He painted some of the most beautiful abstract art and became a respected art theorist throughout Europe. 
Today, December 16 marks the 148th anniversary of Wassily Kandinsky. Let's learn some interesting facts about the life of Kandinsky to gain greater insight into his artworks, and perhaps embrace our own creative sparks.
---
Fact #1: Kandinsky ALMOST Pursued An Academic Career
"The Church in Murnau" from AllPosters.com
Wassily Kandinsky studied law and economics as a college student. He attended the University of Moscow and was fated to work in the field of academics. He was offered an opportunity to teach economics, and he nearly accepted it. But after visiting the churches around the town of Vologda, and attending a Claude Monet exhibition, his mind was changed and he felt inspired to pursue fine art painting as a career.
---
Fact #2: Kandinsky Studied Fine Art at the Age of 30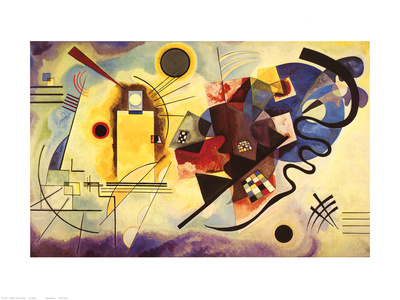 "Yellow, Red, and Blue" from AllPosters.com
Many famous artists began their art career during their late teens or 20s. Sometimes their artistic abilities shined before they reached the period of adolescence. Although Kandinsky admitted to having a fascination with colors at an early age, there was little evidence of art skills.
After rejecting a teaching offer, he moved to Germany and studied under Anton Azbe when he turned 30. While he trained with the Bauhaus school, Kandinsky painted some of his famous works, including Yellow-Red-Blue, the artwork which represented his full arrival at modern abstraction. The Bauhaus school moved around Germany before facing termination by the Nazi government in 1933.
---
Fact #3: Kandinsky Was Inspired By Music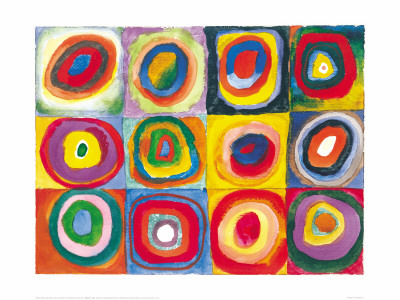 "Farbstudie Quadrate" from AllPosters.com
Kandinsky counted the opera music of the German composer Richard Wagner as a major influence on his artwork. His painting Farbstudie Quadrate attempted to visualize music, showing that color and music create beautiful rhythm together.
---
Fact #4: Russia Outlawed Abstract Art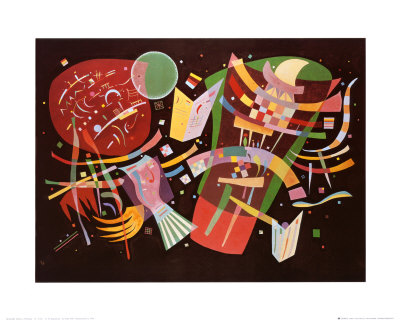 "Komposition X" from AllPosters.com
In 1922, Russia banned all forms of abstract art—claiming that the art style threatened the fabric of socialism. Kandinsky risked oppression and arrest if he created abstract art in his home country, thus the artist never returned to Moscow. This most likely explains why he instead fled to Paris in 1933 after the Bauhaus school was closed by the Nazi regime. Unfortunately he encountered the German government again when Nazis occupied Paris. He completed very few major paintings after 1939's Komposition X and he passed away in December of 1944.
---
Impressed?
"Weiches Hart" from AllPosters.com
Kandinsky pursued his passion and interest, opting for a career in producing beautiful fine art that resulted in him expanding the possibilities of abstract art. His vivid paintings and study of colors laid the foundation of the legacy that he would eventually imprint on the world. 
You can own a reproduction of his beautiful artwork to hang in your space. We carry hundreds of posters and prints that bear the lines, shapes and color designs that Kandinsky meticulously painted years ago. Explore our collection of Wassily Kandinsky posters and discover one that will spark your own creative fire.