Roger Moore didn't always portray the world's greatest spy, James Bond. In fact, his first parlay in the entertainment industry started with an animation cel.
His passion for painting and drawing influences his decision to leave school (sounds similar to another famous artist) and leads him into an apprenticeship for animation. But an unfortunate accident causes him to be fired, destroying his dream of pursuing fine art as a career. But young Moore accepts the setback and begins working as an extra for different local film studios. One cinematic production, "Caesar and Cleopatra," would lead him onto the path of acting. While playing an extra in the film, his performance attracts an off-camera female following and impresses the director, Brian Desmond Hurst. He encourages the young lad to enroll at the Royal Academy of Dramatic Arts while offering to pay tuition. Moore accepts and starts attending. While at the academy, he meets Lois Maxwell who would later co-star with him in a future James Bond film as "Miss Moneypenney."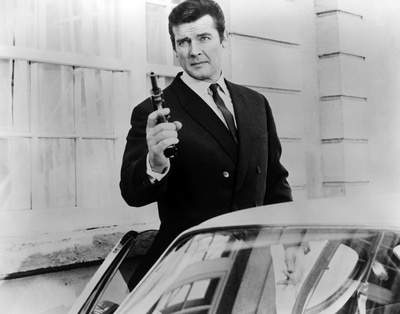 Although Roger Moore acted in other TV and movie roles prior to the James Bond series, no other role prepared him to play the action spy like "The Saint." It was a popular TV show that ran in the 1960s. He played Simon Templar, a sophisticated criminal who stole from unsavory affluent individuals. By the series' sixth season, Moore grew tired of the concept. He returned to cinema acting by 1969. But a few years later, Sean Connery stepped down from the role of James Bond and the only actor ready to depict the James Bond character was none other than Roger Moore.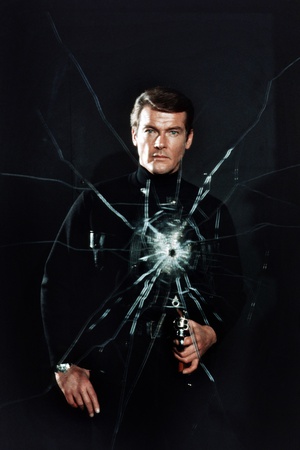 Roger Moore debuted in 1973's "Live and Let Die." The movie received positive critiques. After the success of that film, he starred in other cinematic releases playing the famed spy. After "A View to a Kill" in 1985, Moore announced his retirement from the James Bond series. He would later star in smaller cameos in other film genres until 1997.
Roger Moore's James Bond Movies:
Live and Let Die (1973)
The Man with the Golden Gun (1974)
The Spy Who Loved Me (1977)
Moonraker (1979)
For Your Eyes Only (1981)
Octopussy (1983)
A View to a Kill (1985)
Post-James Bond, Roger Moore also involved himself in charitable work. In 2004, UNICEF bestowed Moore with the Audrey Hepburn Humanitarian Award. In total he had received five awards that honored his non-profit contributions. The entire list of awards that Moore has received:
Awards for Roger Moore's Charity Work
2007: Dag Hammarskjöld Inspiration Award (UNICEF)
2004: UNICEF's Audrey Hepburn Humanitarian Award
2003: German Federal Cross of Merit (Bundesverdienstkreuz) for his UNICEF work
2003: Knight Commander of the Order of the British Empire (KBE)
1999: Commander of the Order of the British Empire (CBE)
LIFETIME ACHIEVEMENT AWARDS Received by Roger Moore
2008: Commander of the French National Order of Arts and Letters (Ordre national des Arts et des Lettres)
2007: Hollywood Walk of Fame
2004: TELEKAMERA ("Tele Tydzień" Lifetime Achievement Award, Poland)
2002: Monte Carlo TV Festival (Lifetime Achievement Award)
2001: Lifetime achievement award (Filmfestival, Jamaica)
1997: Palm Springs film festival, USA, Lifetime Achievement Award
1995: TELE GATTO (Italian TV; Lifetime Achievement Award)
1991: GOLDEN CAMERA (German TV; lifetime achievement award)
1990: BAMBI (Lifetime Achievement Award from the German magazine BUNTE)
Roger Moore's Acting Awards
1981: OTTO (Most popular Film Star; from German Magazine BRAVO)
1980: SATURN Award (Most Popular International Performer)
1980: GOLDEN GLOBE: World Film Favorite-Male
1973: BAMBI (shared with Tony Curtis for "The Persuaders", from the German magazine BUNTE)
1973: BEST ACTOR IN TV, award from the French magazine TELE-7-JOURS, shared with Tony Curtis for "The Persuaders"
1967: ONDAS-AWARD (Spanish TV for "The Saint")
1967: OTTO (Most popular TV-star for "The Saint"; from German magazine BRAVO)