On February 16, 2015 the music industry paid tribute to the legendary songwriter, musician and singer Stevie Wonder. Performers included Beyonce, Ed Sheeran, Lady Gaga, Ariana Grande, Pharrell, Tony Bennett and The Band Perry, Gary Clark Jr. and Babyface—all singing their own rendition of classic hits. All the artists credited him with influencing their music career. Stevie Wonder himself joined them and played his signature piano and harmonica. Still refusing to retire from the music scene, he planned a concert tour requiem of "Songs in the Key of Life" starting March 17.
 Muscle Beach Party film photo poster
Humble Beginnings
Stevie Wonder was born in Saginaw, Michigan. At an early age he showed proficiency with playing musical instruments, notably the piano, harmonica, drums and bass. He partnered with another singing friend and they sang on street corners and at parties, calling themselves Stevie and John. At the age of 11, Stevie sang his own composition "Lonely Boy" to Ronnie White of the group Miracles. From there he was invited to audition for the CEO of Motown Records, Berry Gordy. Impressed with the singing and music talents of the young kid, Gordy signed him onto to Motown's Tamla label. He adopted the name "Little Stevie Wonder" from producer Clarence Paul.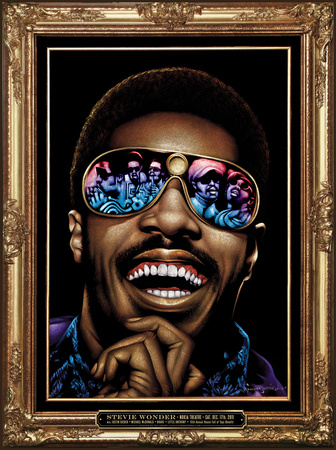 Stevie Wonder Portrait Artwork Framed Print
First Stevie Wonder Hits
Stevie Wonder composed and performed many songs with Clarence Paul. They first recorded covers of Ray Charles songs and then "Little Stevie Wonder" co-composed a couple of songs with Paul, producing the instrumental jazz album "The Jazz Soul of Little Stevie" which mainly featured songs by the older musician. The boy's first popular single was "I Call It Pretty Music, But the Old People Call It the Blues" which made the Billboard 100 but dropped out of the list shortly afterwards. He joined the Chitlin' Circuit and toured cross-country with other artists. His performance at Regal Theater in Chicago was recorded and released as an album, "Recorded Live: The 12 Year Old Genius". Later songs failed to achieve pop status and even his appearance in a film ("Muscle Beach Party") failed to gain traction with his audience. Berry Gordy considered cancelling his recording contract, but a woman named Sylvia Moy convinced the executive to give the kid another opportunity. Together, Moy and Stevie dropped "Little" from his name and his official music name was born, Stevie Wonder. Every song he released since that change became hugely popular through the mid-1960s.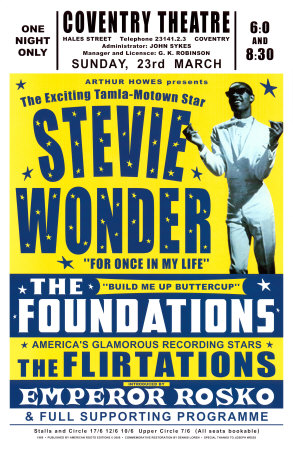 Stevie Wonder, The Foundations, The Flirtations, Emperor Rosko Coventry Theatre concert poster, 1969
Commercial Success & Legacy
Stevie Wonder continued to product popular music throughout the 1970s and 1980s. He retired briefly from Motown Records but he rejoined them and has remained with the record label ever since. He won consecutive Grammy awards, performed duets with various musicians, created soundtracks for movies, donated time and money to charities, performed opening ceremonies and concert tours and still produced an album in recent times. In all, he has earned an astounding 25 Grammy Awards—a testament to his musical legacy and creative influence.
Stevie Wonder Ebony Photo of Concert Performance in January 1980
Want to View More Stevie Wonder Artwork, Posters and Photos?
At Allposters.com, we have two collections that feature the iconic Stevie Wonder. Our selection of Ebony photos show special highlights of the artist during his early and peak fame. The other category features art prints and posters created by artists who felt inspired by the music star. If you're a Stevie Wonder fan then start browsing today!